What is The Astro Forecast:
The Astro Forecast is a fusion of astrology, channeled cosmic guidance and energetic wisdom that creates an easy to use map to follow daily during the shifts and changes that occur to help bring transformation and manifestation into your world.
Created by Ara of The Goddess Circle, this publication combines over 20 years of deep astrological insight and guidance featuring lunar wisdom, solar energy, major cosmic shifts, planetary alignments, retrogrades, eclipses, energetic guidance, New and Full Moon forecasts and so much more!
This amazing monthly publication written by Ara of The Goddess Circle is delivered right to your email to guide you through all of the energetic changes that occur every day.
Ara's profound astrological forecasts have been featured on The Goddess Circle and Rebelle Society and were hailed as potent, powerful, and life changing. Within each monthly publication, you receive this soulful guidance and researched energetic timing to make huge shifts in your life.
With The Astro Forecast, you get a detailed look at all of the different energetic components that are at play and effecting your life woven into an easily understandable and usable map crafted by Ara.
You will be able to see at a month's glance what is coming daily and what will be moving through your life. You can plan practices, rituals, events and meetings easily and without stress. When you know what is coming we are better able to use them to our advantage.
This exclusive Astro Forecast is available nowhere else and is delivered right to your email before the beginning of every month so you can plan and be prepared. There is no searching Facebook for past posts, no missing out on any valuable information and insights that can expand and shift your life. Now you can see at a month's glance exactly what powerful energetic tides will be unfolding and how they will affect you.
Bring exclusive, powerful, easy to use guidance right to your inbox
Help you maneuver the shifting energy that is going on each day
Easily tap into the ever-changing energies of the planets, Moon signs, Retrogrades & Eclipses
Navigate and use planetary shifts to your greatest advantage
Aid in planning rituals, practices, & events
Open doors of opportunity during eclipses, retrogrades & planetary alignments
Give you a heads up when the energy is going to change
Work with the potent energy of the ever-changing New & Full Moons
Let you bring big changes into your life with exclusives specialized practices
Guidance during the Solstices and Equinoxes
Much more!!!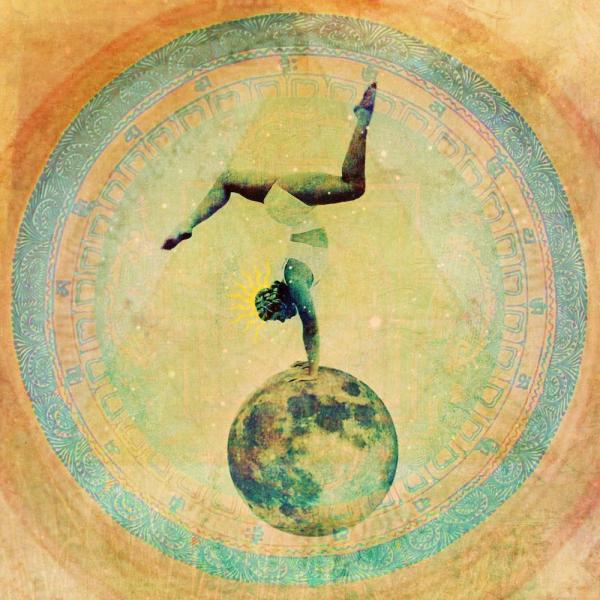 12 complete issues of The Astro Forecast (1 Full Year from time of signup!)
Daily guidance and wisdom on all the profound energetic shifts
Easy to use daily forecast format
Daily cosmic quick tips
All lunar changes complete with guidance, wisdom and information
In depth information on the planetary aspects and alignments
Retrograde energy, Eclipses, Equinox and Solstice information and guidance
New & Full Moon complete forecasts, correspondences, and affirmations
Monthly Calendar with lunar and solar movements
Exclusive specialty practices
Complete Eclipse Reports and special Eclipse practices
Asteroid forecasts including Black Moon Lilith, Chiron, Ceres and more!
Much more!!!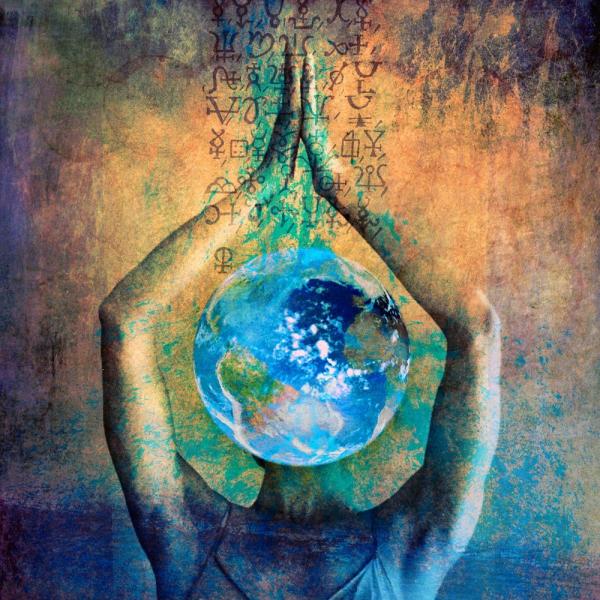 Frequently Asked
Questions
Can I find this daily wisdom on Facebook?
This exclusive, daily guidance can only be found in The Astro Forecast that is delivered to your inbox. You receive all of this at a month's glance so you can see exactly what is on the horizon for you helping you to prepare. There is also a calendar for quick reference as well as daily cosmic energy tips! This publication is also a printable PDF for those who wish to keep a hard copy.
Do I need to know a lot about astrology to use The Astro Forecast?
The Astro Forecast breaks everything down that is occurring in the cosmic landscape so there is no need to worry. There is something to be found in the energetic guidance for both the beginner and the advanced astrological connoisseur.

C. Ara Campbell is a soul guide and cosmic channel who has always been deeply called and connected as a portal to the energies of the stars, nature and the divine. She combines over 20 years of astrological insight and research, her visionary writing and decades of intuition into The Astro Forecast each month to create a publication that can be used as a powerful tool of transformation and manifestation in your life. Working as a cosmic channel she created this groundbreaking framework to bring insight into unfolding Universal energies. The Astro Forecast is a blueprint for deep knowing, guidance and change.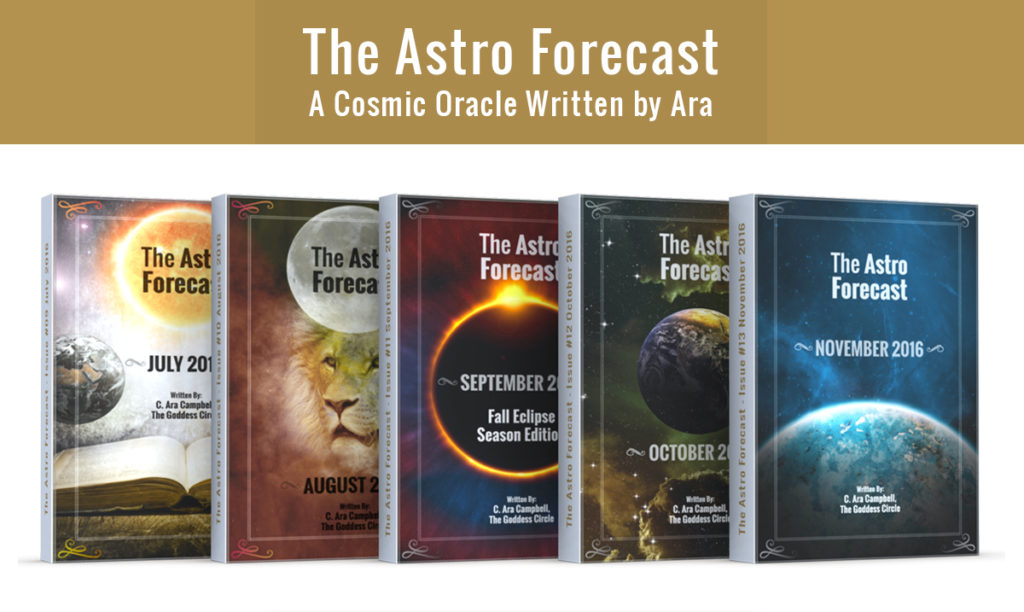 The Astro Forecast is only $35.00 USD/Year
(That's only $0.67 a week for cosmic guidance & wisdom!) 
To make sure we don't wind up in your spam or junk mail folders, add our email address "info@thegoddesscircle.net" to your Contact List!
After subscribing, check your our confirmation email, which contains a link to download the current month of the publication.
"The Astro Forecast is my energy bible! Ara does an extremely detailed job of letting you know exactly what is happening with Universal energy and the action you should be taking around it. Before finding the Astro Forecast I would have to look up multiple sites to gather a full month's report of what to expect, Ara's astrological expertise has eliminated that!" –Julie
"I love being able to check the forecasts so I know what I can expect for energy in the upcoming days or weeks. I also love to be able to refer to them when something is going on that I can't explain. The forecasts are always so great at explaining the energy around me! Thank you so much for putting these together on a monthly basis. They bring so much clarity and explanation to my world!" –Leah Lopez
"The amount of knowledge that is in the Astro Forecast is more in-depth and usable knowledge than any other Astro Forecast. It is a guide to feelings, communication, work life and home life balance, and spiritual guidance for the month/year. The knowledge and writing style is absolutely amazing and easy to understand how it can apply to my daily practices and life." –Noel Nguyen
"This is high quality, and in-depth content. Well written summaries and detailed daily information. I admire the time and energies put into this labor of love, it shows. Best piece of work of its kind that I have ever seen." –Pamela Stumpf
"I love the richness of the information. It feels personal and with a feminine touch as a sisterhood. I value this deeply. The ritual practices are a great way to ground in the unexpected and find gratitude in those challenging times. Yet, it feels like i have more invested and sense of controlling my destiny and intention as opposed to just being a victim. The readings allow me to feel more powerful in the events taking place in my life." –April
"The Astro Forecast is an astrological forecast that is unique and meaningful. It is beautifully written and gives insight to the energy that you will be experiencing as well as affirmations and rituals to help guide you. Nothing is left out. It is suited for the beginner as well as someone deeply connected to astrology. It is quite simply, the best forecast I've ever read. I love how much information is included each month! I love the guidance and suggestions as well. It is the most comprehensive guide I've seen, without being too wordy or too complicated." –Christina
"I truly trust the source that my Astro Forecast is provided from. I so look forward to receiving it. I feel it's detailed enough so able to absorb. Thank You." –Kathryn Finch