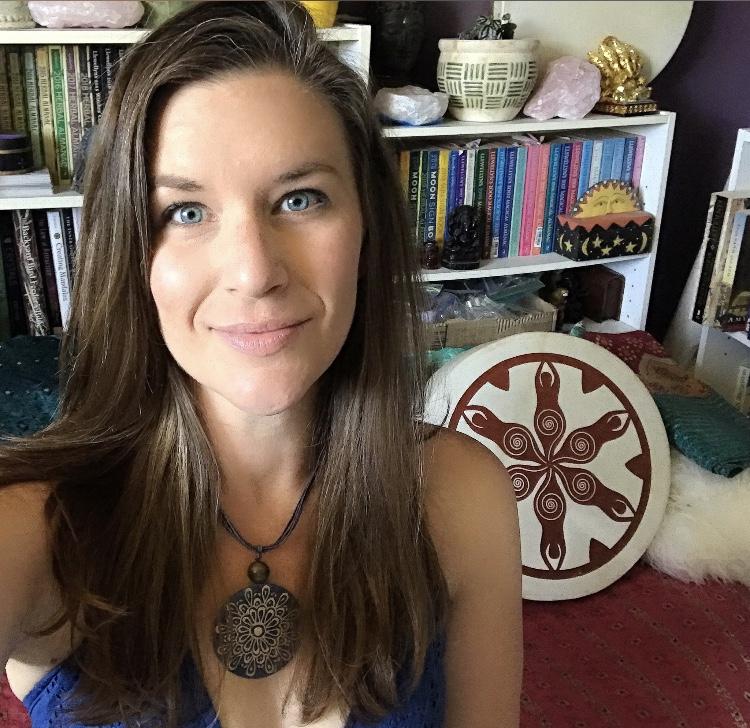 C. Ara Campbell is a visionary writer, author and founder of The Goddess Circle. She is a soul guide, cosmic channel, creatrix and facilitator of the Inner Priestess Awakening Journey and Relationship Empowerment & Sacred Love Program, and author of The Astro Forecast Publication. Ara is a modern-day mystic and walker between worlds dedicated to the awakening rising feminine, living embodied truth and aiding others in connecting with their medicine. Ara is an old soul that has been writing and channeling guidance from the unseen since she was young intuitively soul coaching using spiritual and natural energies. She can often be found seeking wisdom and solace in the wilds of Mother Earth.
Ara has a great love of yoga, for the wilds of nature and animals, for crystals, astrology, tarot cards, photography, music, and exploring our beautiful world.
Ara has been divinely tied to the Priestess path since a very young age connected through spirit and guided by the sacred. She has been connected to Earth Spirituality, natural energy and magic from birth. She is drawn to green spaces, the Moonlight, the water and anything involving rocks, sticks, feathers or stones and is an aspiring shamanic practitioner.
She is passionate about working with the healing aspects of crystals, plants, the lunar and planetary energies and the elements of the Earth. She creates a powerful online publication each month called The Astro Forecast for those who wish to dive deeper into the mysteries and shifts that are revealed each day in our cosmic dance with astrology. She has been connecting and divining with tarot and oracle cards for 20 years.
Ara's visionary writing has been featured in numerous online publications such as the Rebelle Society, the Transformation Goddess, She Who Knows Magazine, Magical Goddess Magazine, Woman and the Owl Foundation, and Women in Touch. She has collaborated on various summits talks and masterclasses with amazing sister Goddesses and fellow wisdom keepers including Kouros Alaee, Shann VanderLeek, Lorna Liana, Jennifer Riley, Kim Wilborn, Susan Ortolano, Joyce van der Lely, Lumari and Erin Schumacher.
Ara is the author of the bestselling book Dark Goddess Magick and a contributing author on the book publications "Original Resistance: Reclaiming Lilith, Reclaiming Ourselves" Girl God Anthology, the Sue Fitzmaurice "Journeys with the Divine Feminine" Compilation Book and is a contributing author on "The Women's Circle Ritual Handbook" book series.
Ara has a lifelong passion with reading tarot, working with Astrology, and tapping into the magic of the Earth energies for healing. She is a practitioner of natural based spiritual practices, loves creating spells and rituals and is named for her favorite and most sacred Goddess Aradia.
Ara is currently working on completing and publishing her first few books, her first oracle deck, various new courses, publications and Goddess programs. Her powerful Inner Priestess Awakening Online Program will run in November 2019 for the 7th time, and has been received by thousands of women worldwide since it launched in 2015. Her Relationship Empowerment & Sacred Love Online Program launched in October 2018, running again in 2019 and 2020 to hundreds of women online. She is collaborating with more sacred sisters from around the globe to create ripples of possibility and expansion throughout the world.
Ara has attended Women's Circle Temple training in California with Awakening Women Institute as well as Goddess training weekends, and received her Red Tent Facilitator Training. She studied life coaching for 6 months, drawn to helping and supporting others unravel the gifts and medicine hidden within. She is a Womb Wisdom Keeper and has been initiated in the Sacred Rite of the Womb.
Ara & The Goddess Circle are mentioned in the September 2019 SUN UK article on Jennifer Aniston & Goddess Circles