Full Moons bring a powerful energy into our lives.
The Full Moon offers to us illumination, clarity, focus and a time to celebrate and connect deeply with the feminine energies.
It offers a time of celebration and of focusing our energy in directions that serve us best as it lets us connect with the clarity of figuring out what is or isn't working on our path. It is a potent time for us to bring awareness to areas where it is needed and to work with dreams, intuition and divination.
Here are some simple practices that you can use to celebrate the Full Moon and to use this powerful energy.
Full Moon Practices
Full Moon Release
Write down everything you wish to release. It can be thoughts, behaviors, emotions, etc.
Go under the moonlight and read your list out loud. If you can't go outside, do so by a window. You can do this even if you don't see the Moon.
Burn your list and give thanks to the Moon. This is a perfect time to burn the New Moon Abundance checks that you created as well.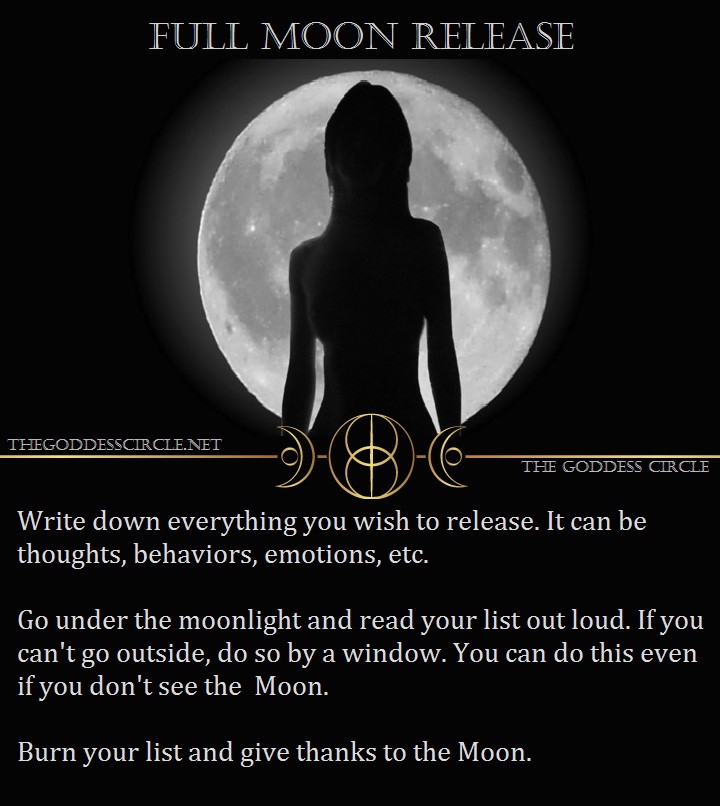 Full Moon Charging
The illumination of the Full Moon is a time of recharging and restoring energy to crystals and magical tools which can be extended to you as well.
Take some time to soak up the replenishing and invigorating energies of the moonlight taking into you the cleansing flow that comes. This is a time of renewal and release the things that have been blocking your energy. Picture the Full Moon light moving through you and clearing you of these energies leaving you glowing and free.
Use the full moon as a chance to charge your sacred tools such as tarot cards, crystals, paint brushes, paints, canvases, pencils, or clay; anything that can benefit from some lunar blessings from Mother Moon. You can even place water out to receive the blessings and power of the Full Moon. These tools are powerful manifestation tools used in your sacred work and monthly charging is hugely beneficial.
A simple charging for these items is to place them where they will be bathed in the Full Moon light, offer your intentions (pure creative potential, divine inspiration, sight into the sacred, a channel of truth, etc) and offer a blessing of thanks for the energy and illumination that is being imbued by the Mother Moon.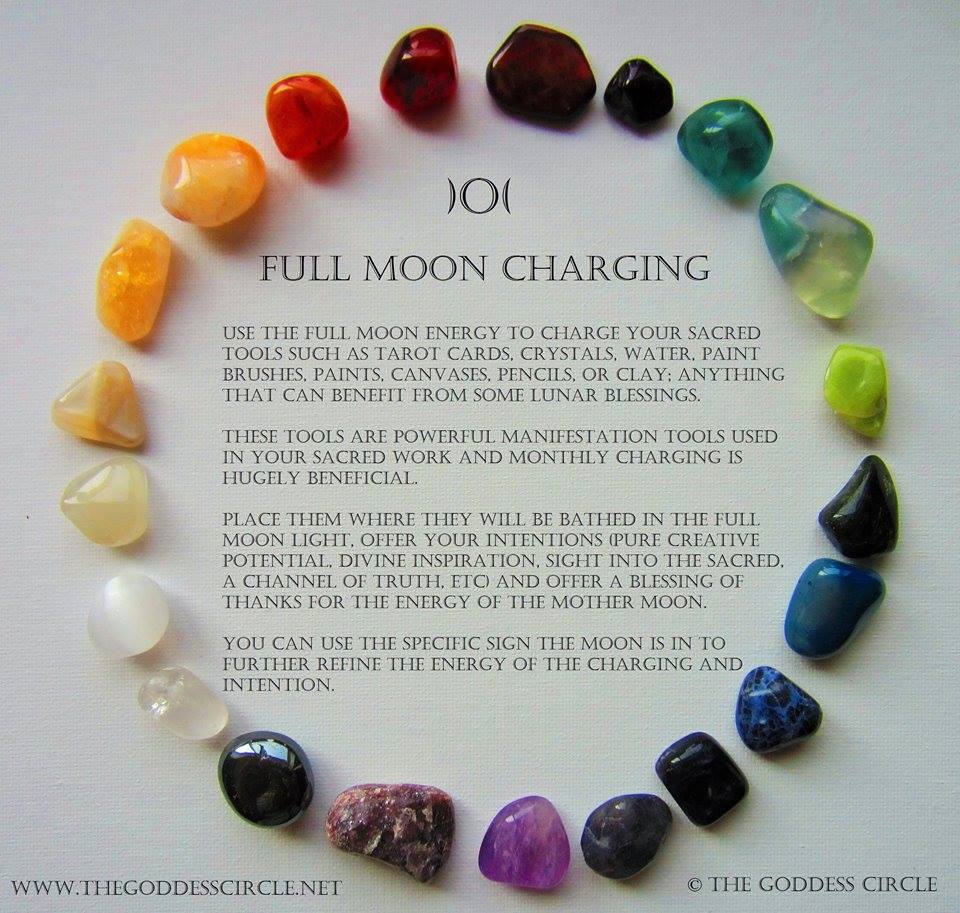 Full Moon Blessing
This simple Full Moon blessing is one that I have been using for over 20 years each Full Moon. This can be employed at the end of any additional rituals you are doing or on its own as an easy blessing.
"The kind fates have blessed my home The kind fates have blessed my heart The kind fate has blessed my loved ones I offer thanks with a humble heart I thank the Goddess for my life I thank the Goddess for my love I thank the goddess for continued blessings already on their way. Blessed be."
~Unknown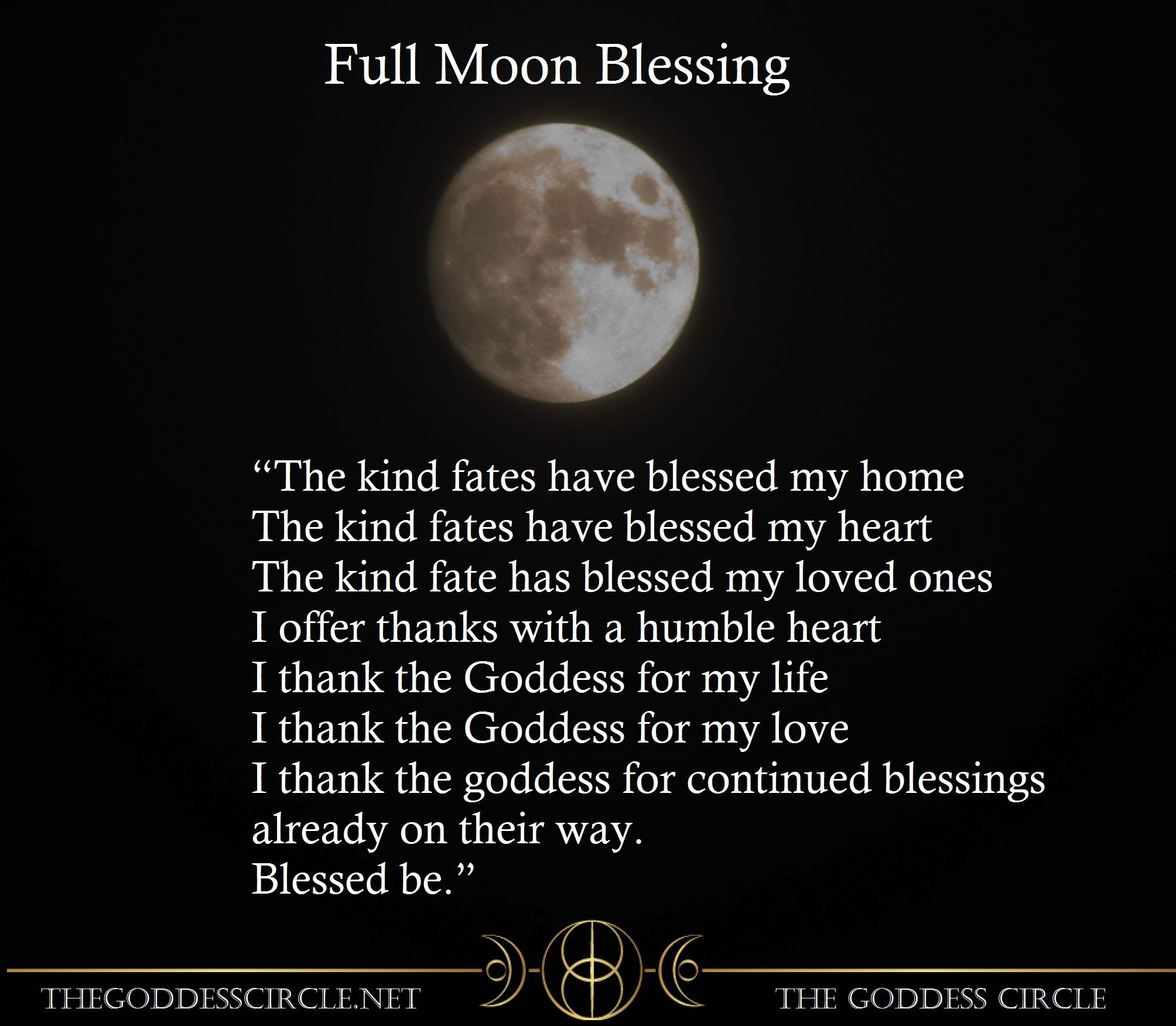 Full Moon Divination
The Full Moon offers to us clarity which can be very beneficial if we feel called to read cards, cast runes or to meditate and ask for deeper insight.
~ Invocation For Clarity ~
"Full Moon bright, Full Moon light Illuminate where shadows sleep Full Moon night, Full Moon sight Show me what is hidden deep." ~Ara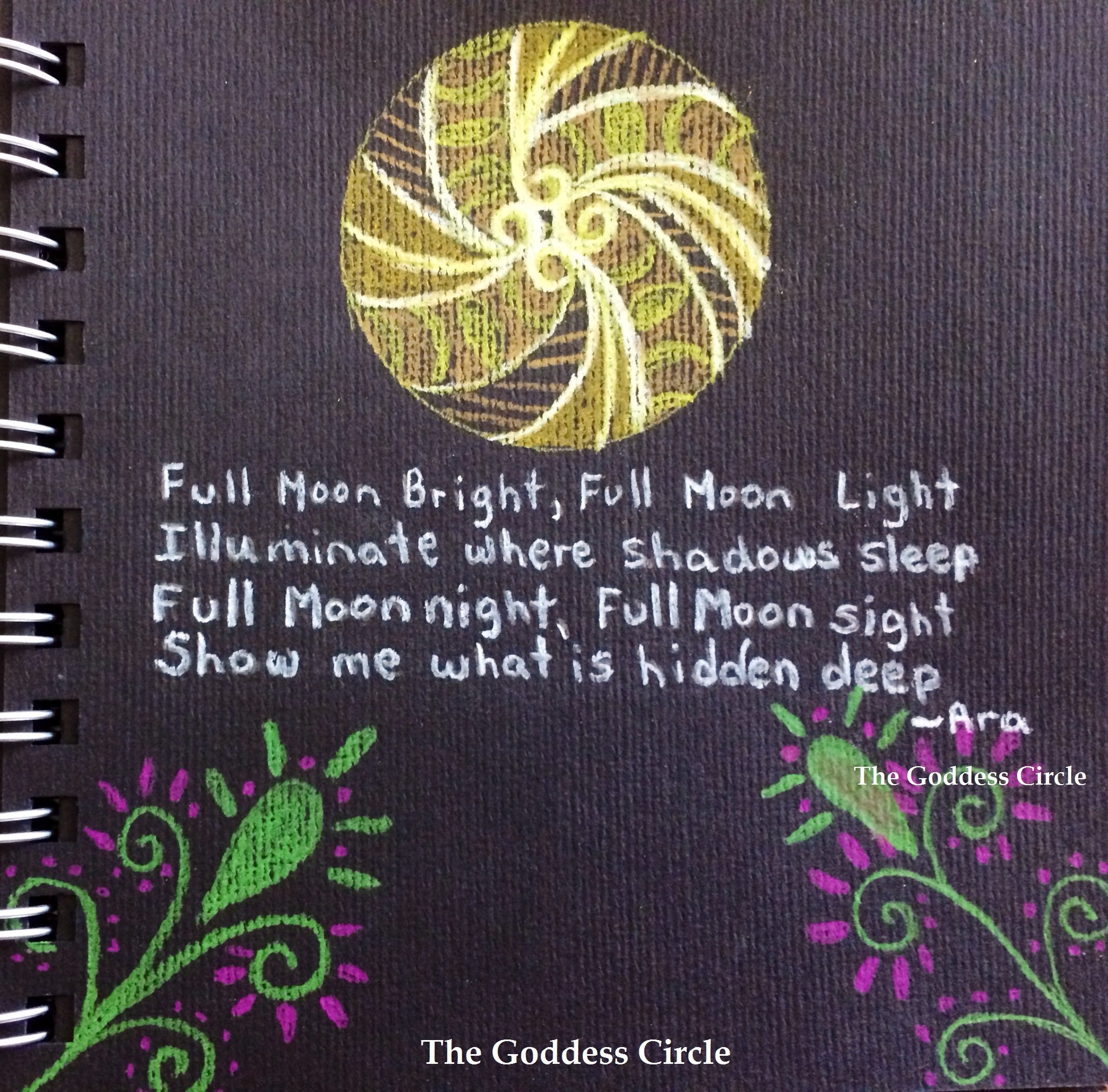 Full Moon Sand & Sea Release
If you are near a beach for the Full Moon, you can take a few minutes and offer what you wish to release this Full Moon to the waves.
Write whatever you wish to let go of on the sand close enough for it to be washed away by the waves. Set the intent of letting it go from your world. As the waves come to the shore and erase them from the sand, feel them being released from your life.
Full Moon Manifesting Wishes & Desires
As the Full Moon is a powerful time for seeing things clearly, it is a perfect time for wish-making and connecting with our desires. This focused energy can help us to manifest things quickly as we become more clear on what it is we are wanting/not wanting.
You can light a candle, clear your mind and focus your energy to write down what it is that you are wishing or desiring to bring into being. You can use the following chant to aid you if you feel called. When you are finished, you can place your wishes on your altar or you can release them into your Full Moon fire.
"Lady Luna Full Moon night Illuminate all With your sight
Your face transforms Before our eyes Wax and wane In these skies
Changes come Now is the time Release what was Embrace the tide
Bring to me All I need Dreams and goals I tend the seed
Clear the path Right to me As I will it So it shall be." ~Ara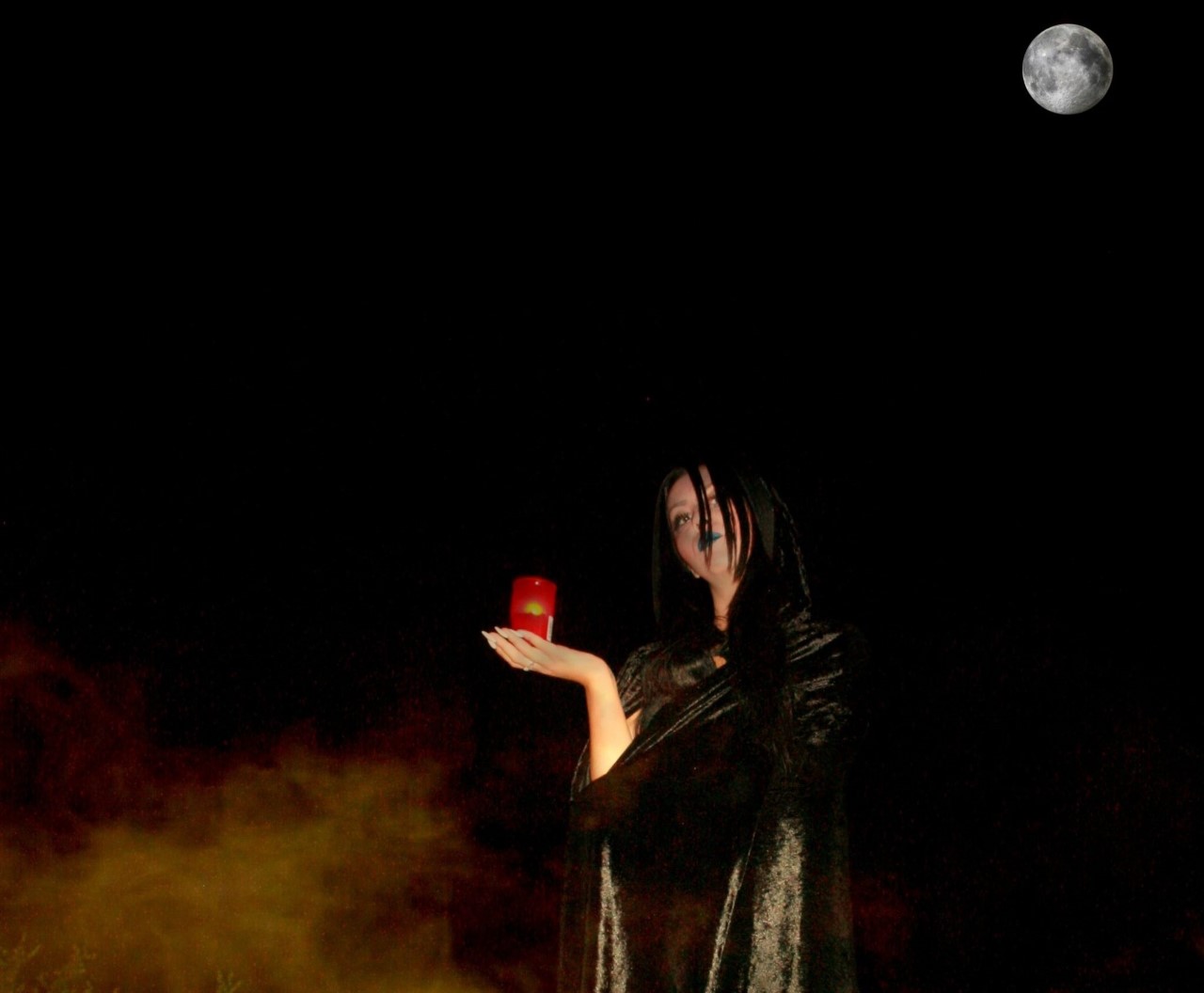 Get a copy of my FREE Moon practices ebook here: https://thegoddesscircle.net/download-free-ebook/
Full Moon Blessings,

~ Unlock the Mystery of the Stars ~

Are you called to connect deeper with the shifting energy of the cosmos? Do you want to dive deeper into how the astrological seas effect your life? Are you called to learn more about how the retrogrades and eclipses change your world?
I invite you to dive deeper with me into The Astro Forecast, a daily map of guidance and wisdom tapping into the ancient blueprint of the cosmos. Learn more here: